For a lot of my clients moving to the Savannah/Richmond Hill area from the North East, winter gardens are a novelty. For us, it's just one more bonus to living in the south.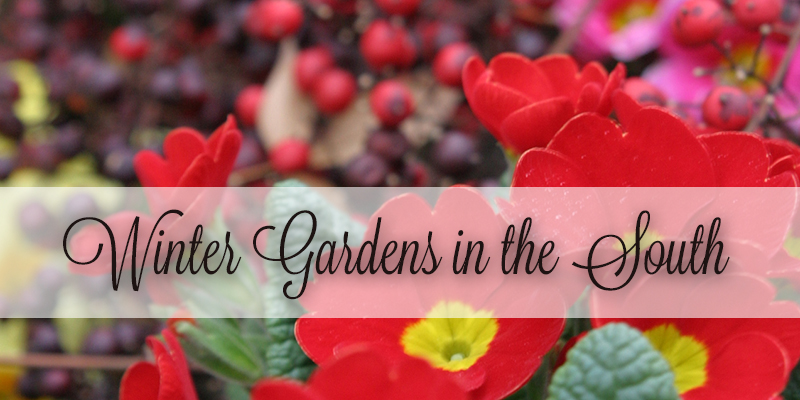 Flowers for Winter Gardens
You're not in Jersey anymore! Flowers in winter? In Southern Georgia, not a problem. A few plants that will flower here during the winter include: camellias, mahonias, winter jasmine, wintersweet, witch hazels, and pansies. Adding these to your landscape will give you a cheery pop of color after the leaves have fallen.
Trees for Winter Gardens
Bark and berries can add wonderful color to a winter landscape. Here are a few ideas to spark your imagination.
Winterberry (Ilex verticillata), is a small tree with red berries that grow throughout the fall and winter.
Himalayan Birch (Betula utilis) showcases a beautiful white peeling bark.
Maple Tree (Acer davidiiis) or as it is more commonly known snakebark, is a smaller tree that shows off white and green striped bark.
Japanese flowering apricot (Prunus mume) will flower in the winter. The flowers can be white, pink or rose and have a wonderfully sweet fragrance.
Winter Vegetable Gardens
Winter vegetables such as lettuce, broccoli, radishes, and carrots prefer warmer soil when starting out but require cooler temperatures to mature and grow.
Winter Gardens offer unique challenges, but you can't beat how pleasant it is to be out in the garden this time of year.
Winter Garden Tips
What about cold snaps you ask. It's always good to plan for them by building a cold frame around your vegetable garden. That will allow you the opportunity to throw blankets over the garden should we experience a truly cold snap.
Also mulching your gardens keep them looking great while protecting the roots from drying out. We recommend a good two inches of mulch.
What are your favorite winter garden plants? Please leave them in the comments below.
Looking for a home with plenty of green space to plan your year round garden? Please call or email me today. The Coastal Empire is a wonderful place to call home.
Melanie Kramer
Keller Williams Realty Coastal Area Partners
912-459-5001 Office
912-658-1390 Cell Direct